In 2007, Lou Mongello challenged himself on the air to run the 2008 Walt Disney World Half Marathon. He spent the remainder of that year training for an experience of a lifetime. Along the way he inspired many of his friends, family and listeners to do the same. These courageous people were not all athletes, many of them, like Lou, were running for the very first time.
In January 2008 he and Deanna proudly crossed the finish line hand in hand. As a result, being the generous people that they are, many of his listeners took it upon themselves to donate to the Dream Team Project in honor of the momentous feat the Mongellos and other members of the first year's group of WDW Radio runners had accomplished.
In the two years since those humble beginnings, we have seen a tried and true group of regular people push their limits to run Walt Disney World Marathon weekend events and inspire more donations to the Dream Team Project.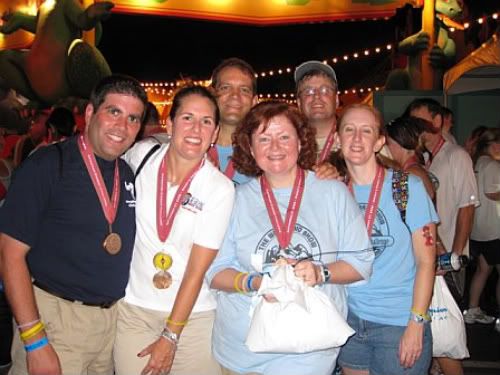 To build upon the generosity shown us since those humble beginnings,  we would like to announce that we are forming an official "WDW Radio Running Team" with the intent to raise money for the Make-A-Wish Foundation of America through the Dream Team Project.
The WDW Radio Running Team will be a group of people dedicated to running Disney Races, from 5K races to full marathons and raising donations for the Dream Team Project. We also welcome non-running Team members who choose to wake early in the morning to find a place on the race course to stand, often for hours, and support their team as they make the journey though the parks.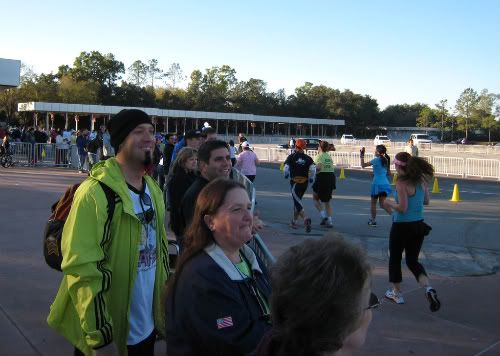 We will be sharing information and experiences about the races, advice for the weekend events, preparation, motivational stories and the progress we have seen over time.
Our contributors will also share tips on what they are doing to support the fundraising aspect of the team and how it has impacted The Dream Team Project's ability to begin sponsoring wishes through the Make-A-Wish Foundation of America.
We also hope to organize Team meets over marathon weekend as well as organize team supporters located along the race route.
"How can

I

be a part of all of this?", you ask?
To be a member of the WDW Radio Running Team you need to:
Join the team for a cost of $50.00 to cover membership materials including but not limited to Team  tek (moisture wicking) shirts,  headband, membership certificate and shipping cost.
Commit to fundraising for the marathon at a minimum donation of $100 to Make-A-Wish Foundation of America through the Dream Team Project . That commitment can be for a couple, family, etc. and not for an individual.
Additional Team Shirts can be purchased for Family members, be they runners or supporters for an additional $35.00.



We are offing a (moisture wicking) Tek shirt for runners and a Sweatshirt option for non-running Team Members:
NEW…..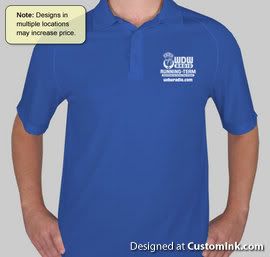 A new Polo has been added to our shirt choices. Perfect to wear into the parks after your race or at the WDW Radio meet!
A new order of shirts will be placed on September 2, 2011 Â – Â Just in time for the Wine and Dine Classic!
Team Members can join the WDW Radio Running Team Facebook page to share training progress and tips. Remember, none of our runners are professionals, we are taking it one step at a time just like you!
Together, let's bring a smile to the face of children with serious illnesses and their families by sponsoring wishes through the Make-A-Wish Foundation of America
You can join the team as a runner or supporter by emailing Valerie Drew at Valerie@wdwradio.com
Comments